Mena Arkansas
If you are looking for the "Official Mena Web Site" you should go to GoMenaArkansas.com but please take a look around our site or add it to your favorites and come back later when you have more time. Another great site is WWW.TalimenaScenicDrive.com. This site gives lots of information about the National Scenic Byway that extends from Mena on the east end to Talihina, Oklahoma on the west end, traveling along the top of the Ouachita (wash-it-aw) Mountains.
Spring activities
In 2006 the Mena Advertising and Promotion commission revived the once popular Lum and Abner Days Festival . It is held in Janssen park each year on the first weekend of June. There is a lot to see and do on that weekend. In addition the arts and crafts vendors there is a BBQ cook-off, 5K run, the local fire departments hold a skills challenge and in 2011 the Advertising and Promotion commission is sponsoring the car show that is also located in the park that weekend.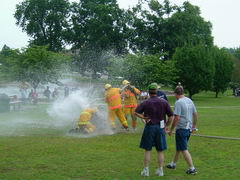 A new event this year will be the second annual Outhouse Race. The first was held labor day weekend 2010 when the New York Says Thank You Foundation came to Mena to help with rebuilding three homes and a 4H Community Center that were damaged in the April 9, 2009 tornado that ravaged the residential area of Mena. Apparently in their research of Arkansas they decided that outhouse races were a big thing and wanted to have a race while they were here. Everyone had a great time and since the racers were already built we decided to do it again. The proceeds from this years Outhouse Race will be used to help cover the expenses for the ones traveling to Ellijay, GA in July to help with this years NYSTY build.
The Lum and Abner Festival won recognition as the best new festival for 2006 and will be held again on the first weekend of June in 2011. Make plans to attend this great fun event.
If you would like to participate as a vendor you can get information by going to www.GoMenaArkansas.com/lumNabner.asp or call (479) 394-8355. Come help us celebrate a couple of our home town heroes and enjoy a great weekend in Mena.
The Summer ....
..is a great time to come and visit our area. Within an hours drive of Mena there are several lakes, state parks, forest service recreation areas and of course the Ouachita National Forest provides an unlimited place to hike, camp, and of course the Wolf Pen Gap ATV trails.
Fall Foliage
Everyone wants to know when the fall foliage is at it's peak. The question about the peak time for the fall foliage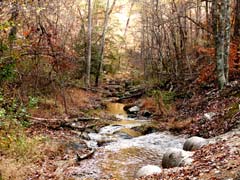 that is so popular in the Mena Arkansas area is hard to answer exactly. Generally the fall foliage is near peak around the last week in October to the first week or two in November. In 2004 it was closer to the middle of November and in 2005 it was just a little earlier. We h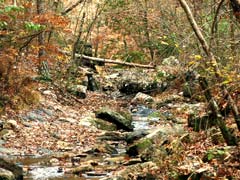 ope you can make it to Mena to enjoy the foliage and hospitality of the local merchants. Take the time to visit the local antique stores, spend a night and get to know Mena, if you do you will probably fall in love with her.
Winter Weather
The Mena area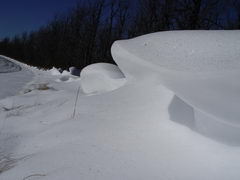 doesn't tend to have a lot of frozen precipitation but when it does it can bring out some beautiful unique features. This picture was taken on Rich Mountain west of Mena. Every few years Mena has a real snow fall of more than 6 or 8 inches and occasionally a big ice storm like the one around Christmas and New Years of 2000-2001. Most of the time though, it's some cold weather, occasional light snows, maybe a little light icing, and some cold rainy days.
Now, here is a little information about the Mena Arkansas area.
Mena Arkansas is nestled in the Ouachita National Forest at the eastern foot of the Ouachita Mountains the tallest range in mid-America and the Western Hemisphere's only mountains that run east to west. Mena was established on August 18, 1896 as a "division" town (halfway between Kansas City Missouri and Port Arthur Texas). Mena owes itís birth to Arthur Stillwell of Kansas City, a New York transplant, decided Kansas City needed rail line access to the Gulf of Mexico via Port Arthur, Texas. In his quest to raise money for the endeavor he enlisted the aid of Jan DeGeoijen, a coffee broker he had met on a previous trip to Europe. He won over DeGeoijen and in a few months the two managed to raise $3 million. Mena having owed itís existence largely to the efforts of DeGeoijen was aptly named for his wife, Mena, not as sometimes thought from Queen Wilhelmina the reining queen of the Netherlands at that time and the city of DeQueen located about 45 miles south of Mena was named for DeGeoijen.
Some interesting facts about Arkansas:
Arkansas did not have a state flag until 1913 when the DAR sponsored a contest to design a state flag to be flown on the Battleship Arkansas. Willie K. Hocker from Wabbaseka was the winner of the contest. The flag is red, white, and blue representing that Arkansas is a part of the United States. The diamond shape containing the 25 stars represents that Arkansas at the time was the only diamond producing state. The 25 stars indicate that Arkansas was the 25th state admitted to the Union. The two stars side by side represent Arkansas and Michigan as sister states. The three stars have a triple meaning. They represent that the land that now is Arkansas was under the control of Spain, France, and the United States. They also represent that the Louisiana Purchase was made in 1803 and that Arkansas was the third state carved out of the Louisiana Purchase. The single star above the name represents that Arkansas was a part of the Confederacy.
Most states have state this or that and Arkansas is no different. Here are a few: State Bird=Mockingbird, State Tree=Southern Yellow Pine, State Insect=Honey Bee, State Gem=Diamond, State Mineral=Quartz Crystal, State Flower=Apple Blossom, State Mammal=White Tailed Deer, State Butterfly=Diana Fritillary, State Rock=Bauxite, State Grain=Rice, State Nut=Pecan
The old Kansas City Southern Railroad passenger depot serves as the headquarters of the Mena-Polk Co. Chamber of Commerce and also houses art exhibits provided by Southwest Artists, local history exhibits and railroad memorabilia. Visit or call the Mena-Polk Co. Chamber of Commerce for Mena information.
Queen Wilhelmina State Park located on top of Rich Mountain to the west of Mena Arkansas, is the location of several events each year. Two of the biggest events are the Mountainfest Arts and Crafts Show held the first part of August each year and the Queen Wilhelmina Rod Run held the weekend before labor day each year. Vendors from several states are represented at the Mountainfest Arts and Crafts Show. The Queen Wilhelmina Rod Run whose primary sponsor is Street and Performance, also attracts a large number of owners and enthusiasts to the Mena Arkansas area from several states. Yet another event is the Ham Fest held the first weekend after Labor Day each year. Amateur radio buffs have met on the mountain for over 30 years.
In addition there is another car, truck, and motorcycle show that is fast becoming a "must do" show. The American Performance Crusin' the Ouachitas car, truck, & motorcycle show was first held in October 2003 and moved to June in 2004. Look for this show to keep growing each year in popularity both with people who enjoy viewing the cars and the owners who enjoy getting together to visit and show off their cars, trucks, and motorcycles. Go to AmPerformance.com for more information. The show is now held in conjunction with the revived Lum and Abner Days celebration at Janssen Park.
If you like to shop for arts and crafts and antiques, Mena, Arkansas is the place for you. There are several Arts and Crafts Shows during the year and numerous businesses featuring arts and crafts and antiques.
If you are a photography buff, you can't beat the Mena Arkansas area to satisfy your need for interesting places and people to take photos of. The mountains furnish some beautiful landscape possibilities right from the side of the road. If you are into hiking or ATVs you can go to those out of the way places and get some pictures that most people never see. There are two wilderness areas in Polk County in the Ouachita National Forest for those of you who like to hike. The Ouachita National Forest also has the Wolf Pen Gap ATV trails just east of Mena for the really adventurous ones.
If you like to fly to your destinations, Mena has a first class airport. Although there are no commercial flights into the airport the Mena Airport has fixed based operators to take care of all your needs if you fly your own plane.
Several well know celebrities were Mena Arkansas natives or had strong ties to the Mena Arkansas Area. Most of the younger generation won't recognize these names but they were well known in their time. Two of the better known were Chet "Lum" Lauck and Norris "Abner" Goff of the Lum and Abner radio show fame. The National Lum and Abner Society holds it's annual meeting in Mena. They were on the air from 1931 until 1953 and made 7 movies.
Another well known artist in his time was David Luke "T. Texas Tyler" Myrick singing Cowboy, Gospel, Western Swing, and Straight-Ahead Country he was born in Mena in 1916. More information can be found at Century of Country.
A well known contemporary celebrity is local artist Monta Black Philpot she is a nationally recognized artist and art teacher. She established the art program at Rich Mountain Community College where she taught for several years before leaving to devote more time to her love, painting. You can see some of Monta's work as well as other local artists at Art of the Ouachita's web site.
At least one internationally known organization is headquartered in the Mena Arkansas area. The Christian Motorcyclist Association's international headquarters is only about 8 miles south of Mena on US Highway 71 South, near Hatfield, Arkansas. It was founded many years ago by a local pastor whose hobby was riding motorcycles. He combined the two and began what has become the largest Christian Motor Cycle club around. One week in October each year between 3000 and 5000 members converge on the local area for the Changing of the Colors Rally.

Mena Arkansas features two city parks at present and is working towards adding an additional park to satisfy the needs of the community in both recreation and relaxation. Of the two existing parks, McMillan park is the newest and features a swimming pool, tennis courts, base ball fields among other attractions. Janssen park is the oldest and was set aside as a park by the city founders.
Mena Arkansas serves the surrounding area as a center for shopping with retail shops ranging from small ďMom and PopĒ stores to a Wal-Mart
Supercenter. If you canít find what you need in Mena, itís only about 80 miles to Ft. Smith Arkansas or Hot Springs Arkansas, 100 miles to Texarkana, 140 miles to Little Rock, and only about 5 hrs to the Dallas-Ft. Worth area.
Mena Arkansas is an ideal place to live climate wise. Only averaging a high of 93 degrees during July, traditionally the hottest month of the year, and an average low of 29 degrees during January normally the coldest month, it is the best of both worlds.
The City of Mena Arkansas has a state of the art hospital, Mena Regional Health System, which is strongly supported by the community. It is staffed by several doctors and surgeons practicing a broad range of specialties and has many of the same capabilities as the larger hospitals for performing tests and treatment. However, if you require treatment or tests that canít be performed at Mena Medical Center, itís less than a 3 hour trip to some of the best treatment centers in the country in Ft. Smith, Hot Springs, and Little Rock. The hospital recently completed a major construction project to expand, renovate existing areas, and add an all new entry to the hospital, a new emergency area and entry, and a new women's area with separate entry. During this time be sure to watch out for the construction that is still going on inside the building, if you have a need to visit the Mena Medical Center.
Mena also has a brand new Veterans Clinic that opened recently to serve our local residents that served their country in the military.
Mena's public schools go from K-12 and are located on 3 campuses. Mena also has a community college, Rich Mountain Community College, that has shown growth nearly every year since it's formation in 1983.
Buying and owning property in the Mena area is a bargain as compared to other areas of the country. Property taxes are only 10% or less than of some areas for instance and the real estate is moderately priced compared to comparable property in other areas of the country.
Mena Arkansas is well know across the country for it's automobile related businesses also. Two of the most well known are Brodix, Inc. and Street & Performance there are several other smaller businesses in the area. These businesses range from the restoration of classic cars, building street rods, and the manufacture of automobile parts used in automobile restoration. There are currently two major car shows in the area each year, the Queen Wilhelmina Rod Run and the Crusin' the Ouachitas car show.
Another nationally known industry in Mena Arkansas is the combined business located at the Mena Intermountain Municipal Airport. There are painting facilities, interior shops, engine shops, and several other businesses to take care of any of your aircraft maintenance needs. There is even a facility that can do maintenance on planes as large as a 727.
If you are coming to visit Mena Arkansas, there are many places to stay and eat. Lodging ranging from motels, to bed and breakfasts, to camping you can find a place that fits the needs of you and your family. There are several restaurants, period cafes, and nationally known fast food eateries in the Mena Arkansas area. If you plan on coming to Mena Arkansas during the fall foliage season, you need to make your reservations early. One of the places of lodging that is most popular is the lodge at Queen Wilhelmina State Park, the park also has camping facilities.
Take a walk on the wild side! Located near Mena, this organization is devoted to the rescue of exotic felines. Visit Walk on the Wildside EFR for more information.
Browse through our web site to see pictures, virtual tours, and information about the Mena Arkansas and Polk County areas. We will be adding content, 360ļ virtual tours, and information about the Mena, Polk County areas on a regular basis. If you have a web site that is related to the Mena Arkansas area feel free to link to our site. Please let us know if you find something on our site that is in error. If you have information you would like to contribute please feel free to e-mail it to us for consideration. If you have a business and would like to have a link on our site please contact us. If you don't have a website for your business and would like to have one or if you have one and would like to have it updated or a new site to replace your existing site we can help you. We offer hosting also, please contact us.